The company prides itself on upholding the highest standards of ethics and integrity in its business practices. As part of good corporate governance, companies must promote ethical behavior at all levels of their organization to ensure sustainability. Cummins' Ethics and Compliance organization are focused on protecting the company's reputation as a trustworthy and honest company as it expands globally.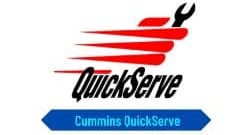 Today, everyone has a smartphone, which means you can access Cummins Quickserve with your mobile device. To use Cummins Quickserve on your mobile electronic devices, such as smartphones, tablets, and iPads, you must install the Cummins QuickServe Online Mobile App on your portable electronic devices to access Cummins QuickServe. The subject of today's article is the mobile application published by Cummins Inc., which allows access to the Cummins Quickserve service from a mobile device.
Cummins QuickServe Online Mobile Application
Cummins Inc released Cummins QuickServe Online Mobile on September 21, 2014. Cummins has released a mobile application, QuickServe Online, to provide easy access to information about Cummins parts and engines. Smartphones, tablets, and iPads with Android and Apple operating systems can use it.
The application is free for all Android and Apple users using Cummins QuickServe services. You must download and install it from Google Play Store or Apple Store. However, ensure a good internet connection and plenty of storage space on your electronic device (Android or Apple version).
Want to know all the genuine parts you need to maintain or repair your Cummins engine? Can you provide any nameplates and design information? If you knew what each error code means and how they are related, you would know which ones to fix first. You can count on us 24/7 to find the right solution for you. The QSOL mobile app provides easy access to Cummins parts options, parts catalogs, and engine nameplates for 15 million Cummins engine serial numbers (ESNs).
After entering your Cummins engine serial number, you will have access to the following:
Engine nameplate information
Parts catalog for your specific engine
Trouble code analyzer (for electronic engines)